How AT&T Is Revolutionizing Their Workplace
As a business, our focus is to provide customers with a mobile lifestyle. As an employer, we're making it easier for our staff to mobilize their work life. With the Workplace 2020 initiative, we're transforming how we work – from collaborative workspaces to electronic smartboards, we're thinking ahead to the future. In this Innovative Workspaces Series, get an inside look at some of our spaces designed to foster creativity and collaboration.
This is a transformation of the traditional day-to-day office environment that we're used to. It's truly representative of where we're going as a company.

– Lauren Cooper,

Sr. Product Marketing Manager
Global workspace expert Chris Mach elaborates on the increasing flexibility of the modern workplace: "Based on the 2020 work and a lot of research, we're evolving our real estate assets to be more agile and on-demand. Our goals are to eliminate unnecessary space and to develop high performing, better located workplaces." Mach continues, "...the traditional workplace platform will get leaner, greener and better for supporting work and collaboration." Our teams are adapting quickly and work better together in the new space. Ashley Hoptay says she "loves the thought of a workplace that works for you." Hear what the rest of our employees have to say about their experience with Workplace 2020:
Get a Peek Inside Our Featured Workspaces
AT&T Headquarters in Dallas, TX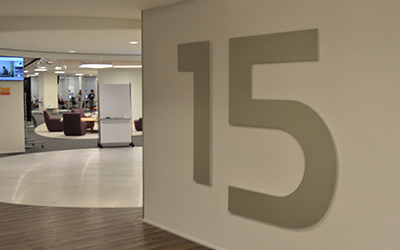 AT&T Foundry – Plano, TX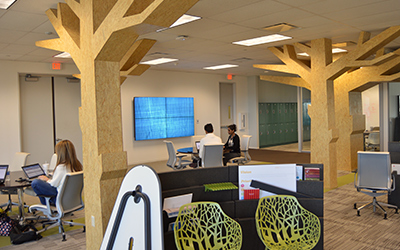 Coming Soon
AT&T Foundry – Palo Alto, CA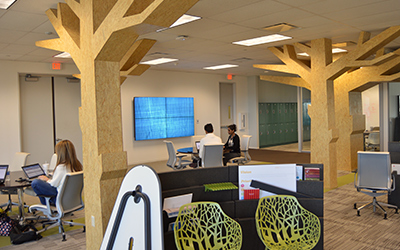 AT&T Foundry – Atlanta, GA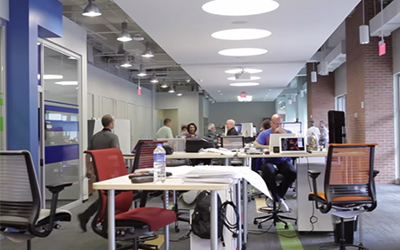 Join the Talent Network
Sign up to receive a monthly newsletter and be the first to know about career events, new openings and exclusive updates.
Join Now