Overview
Our Technicians keep millions of people connected to the wide range of services we have to offer. If you're tech savvy, a great problem solver and love helping customers – take your career on the road with us.
Full-Time: may include nights & weekends
$11-20+/hr, depending on experience
Success Profile
What makes a successful Technician at AT&T? Check out the traits we're looking for to see if you have what it takes.
Installation Technician
AUGUSTA
,

Georgia

Our technicians help customers apply the latest technology to their lives. This is where innovation is born, when our customers use new technology. Working with the latest devices and tools our technicians help us deliver the future before anyone else – by installing our award-winning TV service, satellite or state of the art fiber optics to give customers access to the world's most robust network. Innovation starts in the hands of our customers, and our technicians deliver it to them.

What's it like to join our team? Well, you'll work indoors and outdoors to install high-speed broadband, Wi-Fi and voice services in homes and offices. But that's not all. You'll also connect with our customers to provide first-hand demos of service features and functions so they can apply the latest technologies to their lives in a supportive team environment.

You'll also gain an amazing benefits package with medical/dental coverage, 401(k) plan, tuition reimbursement and paid time off.  In addition to these benefits you'll be a part of our ongoing paid training in your field leading to exciting career paths. 

Have you worked for three or more years installing or maintaining entertainment, security, or networking equipment for customers or have similar experience? If yes, you can join our team with a starting pay of over $20 per hour. Don't have three years of experience? We offer a competitive salary for all levels of expertise and provide great opportunities for career growth.

Don't take our word for it. Our employees say it best!

Watch now.

If you like what you're hearing so far, see below for more details.

To qualify, you'll need to:
Possess a valid state driver's license and clean driving record
Weigh less than 275 lbs. for ladder safety
Lift and move up to 80 lbs.
Work a flexible schedule including evenings and weekends
Possibly work in small confined spaces or aloft (up to 28 ft.)
Identify wire and cable colors
Qualification on pre-employment assessments
Study Guides for pre-employment screening (click the links below to open the various study guides)
Assessment Information:
Interview Information:
Background Check Information:

Ready? Apply now.
Requisition ID

1739193
Apply
If you're not ready to apply,
join our Talent Network to stay in the loop >
Applicant Experience
Here's a step-by-step look at the Technician hiring process.
The process will take approximately 4 to 7 weeks, depending on location.
Be sure to check your email regularly and complete each step within the timeframe given.
You'll need to complete and pass each assessment before moving on to the next step. If you don't pass on your first attempt, you'll be eligible to retake your assessments after 6 months.
How to prepare for your
assessments
Our goal is to set you up for success at AT&T. That's why we're providing you with the information you need to prepare for the entire application process.
Preparing for the TMT-F III
The Technical/Mechanical Test-Field III (TMT-F III) will take 30 minutes to 1 hour to complete. This is a computerized adaptive test (CAT) which will tailor questions based on how you responded to previous questions. The three sections will test your ability to:
Follow work instructions to solve problems
Apply mechanical principles and physical laws to solve problems
Assess work orientation and provide customer service in a variety of situations
Make sure you read the questions carefully, think through your answers before responding, and be aware of your timing. For details about the TMT-F III, review our Study Guide: Technical/Mechanical Test-Field III (TMTF III)
Preparing for the PTI-R
The Premises Technician Inventory (PTI-R) assessment will measure your job-related attitudes, behaviors and experiences. It'll take 15 minutes to complete, and there really are no right or wrong answers. Although your test files will be valid for 21 days, you should try to complete the assessment immediately. For details about the PTI-R, review our Study Guide: Premises Technician Inventory (PTI-R) East, Midwest, Southeast, Southwest, West
Preparing for the PTA/WTA
If your answers in the previous assessment indicate that you're a good fit, in one to two weeks you'll take part in a Realistic Job Preview (RJP) and have an interview with the Hiring Manager. The Hiring Manager will conduct the Premises Technician/Wire Technician Assessment (PTA/WTA). It will take approximately 20 minutes to complete. You'll be contacted within two weeks with the results. For details about the PTA, review our Study Guide: Premises Technician Assessment (PTA)
Final assessments and PAE
This is the final step in the Technician hiring process. A background check will be conducted and you'll need to complete a drug screen and PAE within 48 hours. The Physical Abilities Evaluation (PAE) will be performed by a medical professional to determine your ability to perform the physical requirements of the job. You'll be contacted within one week with the results. For details about the PAE, review the appropriate Study Guide for your region: Physical Abilities Evaluation TIPS (PAE) Southwest and East or Physical Abilities Evaluation TIPS (PAE) Midwest, West and Southeast
Need help with your application?
Visit our FAQ page to get answers and even chat with one of our Application Specialists >
Rewards
Compensation

AT&T offers competitive pay and benefits, as well as other exciting rewards.

Employee discounts

Enjoy immediate access to discounts on a wide range of items – from AT&T branded products and services to tickets for sports and entertainment events.

Paid time off

Play as hard as you work! On top of paid holidays, AT&T offers Paid Time Off (PTO) to eligible employees for leisure and to handle personal activities. PTO includes bereavement and jury/court duty.

Paid training

Rock your job with the support of innovative learning and development initiatives.

Tuition reimbursement

Keep learning - tuition assistance is available for eligible employees to help cover education costs that have been approved by the company.

Savings Plan

AT&T employees can plan for the future by enrolling in our AT&T Retirement Savings Plan (ARSP).

Insurance
(medical, dental & vision)

Get covered with our excellent insurance options - for you and your family.
Top Stories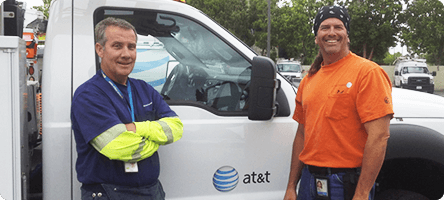 Leading By Example: AT&T Technicians Jump Into Action at Site of Car Accidents
Most people see an accident on the highway and either slow down to look at the aftermath or move as far away as possible. Not Dorn Norbury and Paul Roberts, Splicing Technicians in Tustin, California.
Read More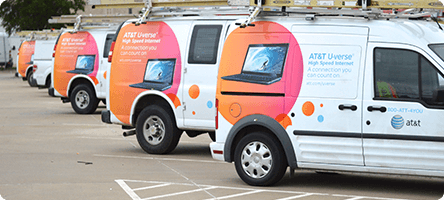 Making connections
(as an AT&T Technician)
Our Technicians deliver the latest technology to our customers – but it's not just as simple as plugging our products into your wall. Gary Yates is one of our Cable Splicing Technicians, expanding our network every day.
Read More

Current Employee - U-Verse Premises Technician in Sunnyvale, CA
Pros
Good pay, benefits, over time, give all tools, uniforms and boots you need. Management is good at replacing them for you.
Cons
Never know what time you'll be done since you have to complete every job, same job could take you 45 minutes or 3-4 hours so it's hard to make plans
Powered By

---
Doing Great Things
Building a brighter future

In 2015, we saved $119 million in annualized energy – and that's only the start of how we're in the business of doing good.

Making an impact

We're working to make a difference in our communities – like our $250 million commitment to education through AT&T Aspire.

Ensuring every voice matters

With 115,000+ employees in our employee networks, we celebrate the amazing things our differences bring to the table.
Putting military skills to work

We're on a mission to hire the best talent – a big mission. We're committed to hiring 20,000 veterans by 2020.

Developing what's next

Whether it's in AT&T Labs, the AT&T Foundry or our Mobile App Hackathons, we're unleashing talent and turning big ideas into big possibilities.

Taking your career far

With mentors to guide your way and lots of training opportunities, there's no limit to how much you can grow or where your career can go.
Join the Talent Network
Sign up to receive a monthly newsletter and be the first to know about career events, new openings and exclusive updates.
Join Now