Overview
If you have a passion for customers and technology, you're in the right spot. As part of our Retail team, you'll help deliver best-in-class products and services that connect our customers to the world. It's a big job with lots of room to grow.
Full-Time: may include nights & weekends
$10-21+/hr, based on experience and location
Success Profile
What makes a successful Retail Sales Consultant at AT&T? Check out the traits we're looking for to see if you have what it takes.
Retail Sales Consultant
DEDHAM
,

Massachusetts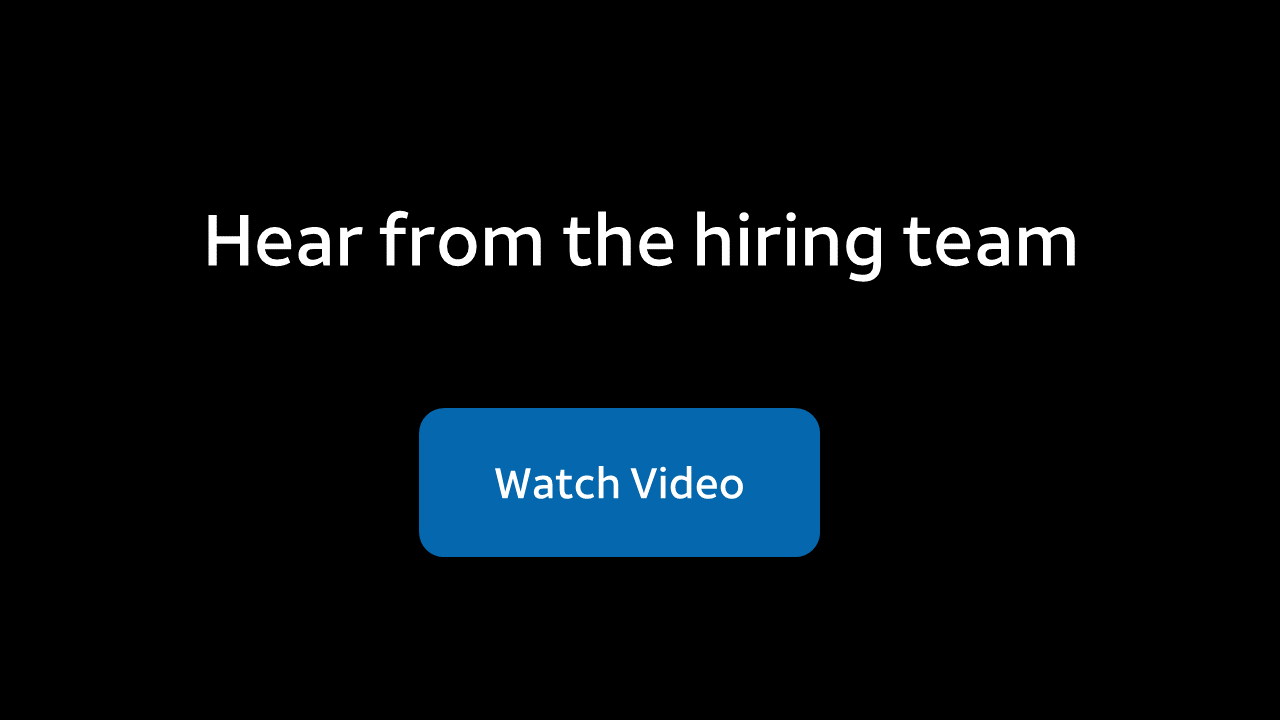 Do you like helping people? Do you have a strong desire to connect people with technology and entertainment? You may have what it takes to join our amazing team! Our Retail Sales Consultants build solutions for our valued customers and meet/or exceed key sales objectives. They work with a full portfolio of awesome products including wireless, connected car, and wearables. They also offer integrated, seamless, and smart entertainment options including DIRECTV & DIRECTV NOW.
You'll use your knowledge and passion to deliver an effortless customer experience while pursuing challenging and rewarding goals! This role comes with a very competitive salary and commission package as well as awesome benefits. We are passionate about innovation, we love our employees and we love connecting our customers to their world.
Sharing your knowledge with our growing customer base comes with many rewards. Start with the paycheck:  Base plus commission. Our current full-time Retail Sales Consultants earn an average of $47,552 in total compensation in the first year when successfully meeting or exceeding sales goals.  Our top sellers earn an average of $56,950 per year.
You'll also gain an amazing benefits package, including:
Ongoing paid training
Exciting career paths
Supportive team environment
Employer-provided mobile device
Medical/dental coverage
401(k) plan
Tuition reimbursement
Paid time off
Not to mention some pretty cool perks, like:
One of our latest devices and a service plan. Using our technology, gain first-hand expertise to share with our customers.
Discounts on accessories and additional AT&T products and services. That means you always have access to the coolest gadgets around.
A spring and fall fund to spend on a wide range of Team Color apparel. You'll even receive a welcome kit of fun gear to get you started (including two shirts).
Prior retail or customer-facing sales experience is a plus but not required. AT&T Sales training will be provided.
You may be invited to complete an interview by recording a video, so make sure to watch your email for updates.

Apply now!
Requisition ID

1802486
Apply
If you're not ready to apply,
join our Talent Network to stay in the loop >
Applicant Experience
Here's a step-by-step look at the Retail hiring process.
The process will take approximately 4 to 6 weeks, depending on location.
Be sure to check your email regularly and complete each step within the timeframe given.
You'll need to complete and pass each assessment before moving on to the next step.
If you don't pass on your first attempt, you'll be eligible to retake your assessments after 6 months.
There's a chance your interview will be done remotely or by recording a video interview, so make sure you can connect on your end – and always remember to dress professionally.
How to prepare for your
assessment
Our goal is to set you up for success at AT&T.
That's why we're providing you with the information you need to prepare for the entire application process. In particular, your assessment will ask behavioral questions to test if your sales and customer services skills are a good fit for this opportunity. When you're getting ready, it's a good idea to find a quiet place, get in the zone and answer as honestly as possible. And to prevent any errors from happening, make sure you are doing so on a computer and not a mobile device.
If you want to get a better idea of what will be involved, check out our Retail Sales Consultant Study Guide >
Need help with your application?
Visit our FAQ page to get answers and even chat with one of our Application Specialists >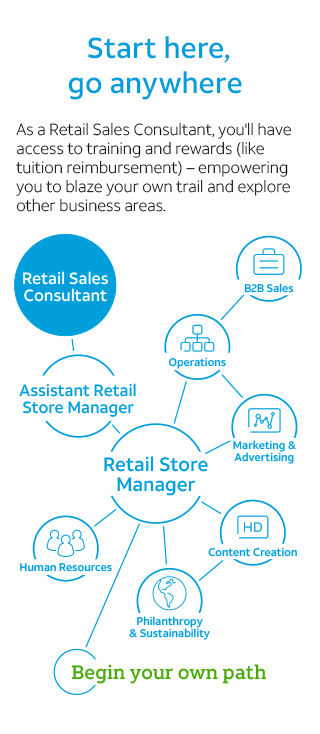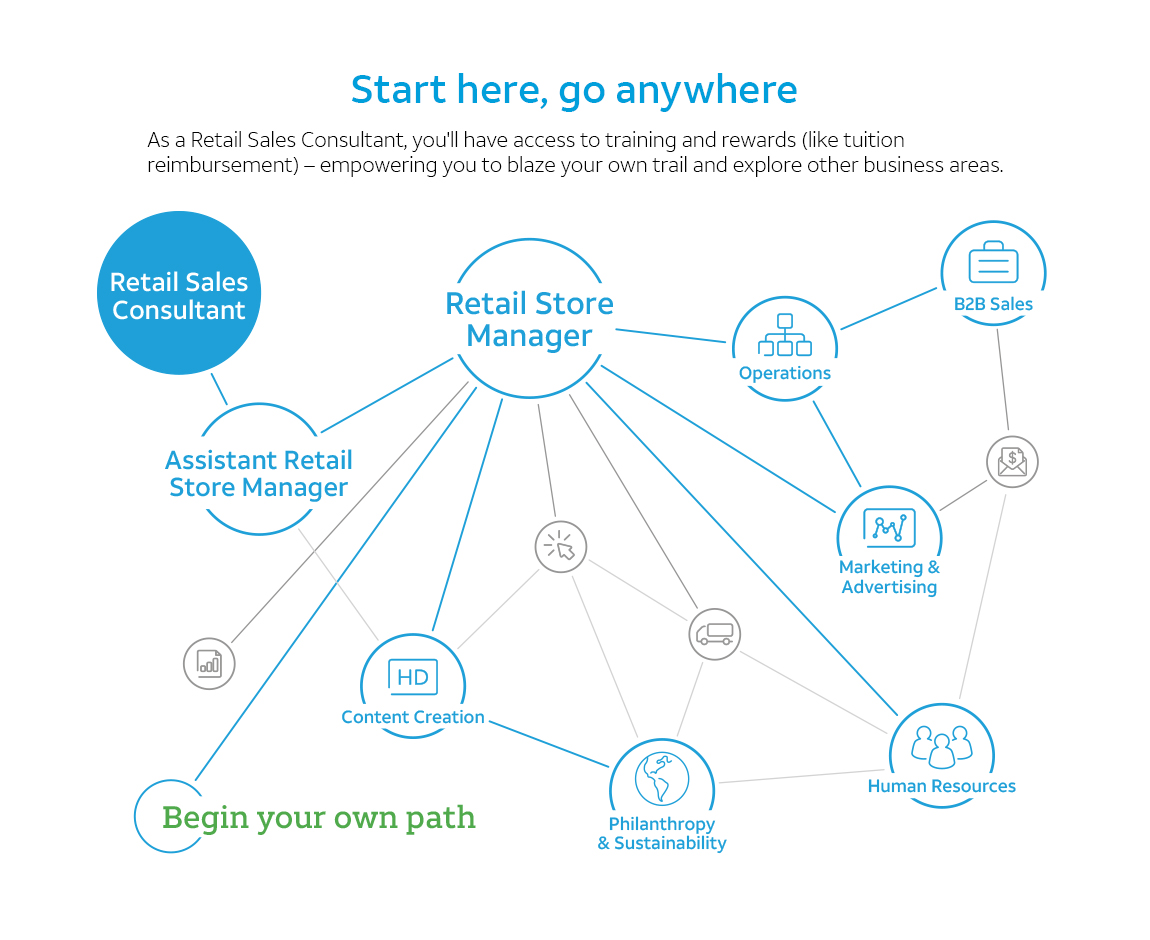 Rewards
Compensation

AT&T offers competitive pay and benefits, as well as other exciting rewards.

Employee discounts

Enjoy immediate access to discounts on a wide range of items – from AT&T branded products and services to tickets for sports and entertainment events.

Paid time off

Play as hard as you work! On top of paid holidays, AT&T offers Paid Time Off (PTO) to eligible employees for leisure and to handle personal activities. PTO includes bereavement and jury/court duty.

Paid training

Rock your job with the support of innovative learning and development initiatives.

Tuition reimbursement

Keep learning - tuition assistance is available for eligible employees to help cover education costs that have been approved by the company.

Savings Plan

AT&T employees can plan for the future by enrolling in our AT&T Retirement Savings Plan (ARSP).

Insurance
(medical, dental & vision)

Get covered with our excellent insurance options - for you and your family.

Current Employee - Retail Sales Consultant in Edmond, OK
Pros
You get the opportunity to work with and meet some really amazing people.
Cons
I do not have any cons.
Powered By

---
Doing Great Things
Building a brighter future

In 2015, we saved $119 million in annualized energy – and that's only the start of how we're in the business of doing good.

Making an impact

We're working to make a difference in our communities – like our $250 million commitment to education through AT&T Aspire.

Ensuring every voice matters

With 115,000+ employees in our employee networks, we celebrate the amazing things our differences bring to the table.
Putting military skills to work

We're on a mission to hire the best talent – a big mission. We're committed to hiring 20,000 veterans by 2020.

Developing what's next

Whether it's in AT&T Labs, the AT&T Foundry or our Mobile App Hackathons, we're unleashing talent and turning big ideas into big possibilities.

Taking your career far

With mentors to guide your way and lots of training opportunities, there's no limit to how much you can grow or where your career can go.
Join the Talent Network
Sign up to receive a monthly newsletter and be the first to know about career events, new openings and exclusive updates.
Join Now