Overview
At AT&T, our Bilingual Retail Sales Consultants make sure we can connect to all of our customers – no matter what language they're speaking. It's an opportunity with a base salary plus commission that is eligible for competitive benefits packages.
Full- and Part-Time: may include nights & weekends
$10-21+/hr, based on experience and location
Success Profile
What makes a successful Bilingual Retail Sales Consultant at AT&T? Check out the traits we're looking for to see if you have what it takes.
Bilingual Spanish Part Time Sales Support Representative
Uvalde
,

Texas
Do you speak Spanish and English? If you do, we're looking for you! Our Retail Careers come with awesome perks including potential, additional starting pay if you are bi-lingual!
This position is part time! What does that mean? Flexibility, balance, control! Are you interested in pursuing a new, exciting career but cannot commit full time? AT&T understands! Our part-time careers allow you the time to manage your schedule including days that you designate as your own each week!
Do you like helping people? As a Sales Support Representative you will have the opportunity to learn and perform a variety of roles to help deliver an extraordinary customer experience! You will be greeting, answering inbound calls to the store, triaging customer needs, problem solving, processing transactions and will assist in selling a variety of AT&T products and services. The Sales Support Representative also has the opportunity to learn roles related to all store logistics including but not limited to inventory, cash and merchandising as well as records and paperwork management. Communication with management and vendors is also a key role. There will be other responsibilities assigned by management that contribute to the success of the team and customer experience. This role comes with a very competitive salary package as well as awesome benefits. We are passionate about innovation, we love our employees and we love connecting our customers to their world.
MINIMUM REQUIREMENTS:
Perform the following with reasonable accommodation:
Work flexible hours (including evenings, weekends and holidays)
Stand for long periods of time
Ability to lift up to 25 pounds
Operate a personal computer, wireless equipment, copier and fax
Work in other locations as the needs of the business dictate what may be required
May be required to wear a uniform or company apparel as designated by management
PREFERRED QUALIFICATIONS:
Associate Degree
1+ years of relevant work experience
Telecommunications industry knowledge
Excellent interpersonal, verbal and written communication skills and attention to detail
Strong working knowledge of computer systems/software and computerized billing
Strong customer service skills
Thorough research skills

Study Guide for pre-employment screening(click the link below to open the study guide)

Sales Support Representative Test
Reid Report

Provisions listed in these Job Descriptions may be changed or modified by AT&T Mobility without prior notice at any time, at the Company's sole discretion.
Requisition ID

1765668
Apply
If you're not ready to apply,
join our Talent Network to stay in the loop >
Applicant Experience
Here's a step-by-step look at the Retail hiring process.
The process will take approximately 4 to 6 weeks, depending on location.
Be sure to check your email regularly and complete each step within the timeframe given.
You'll need to complete and pass both assessments before moving on to the next step.
You are eligible to retake your assessments after 6 months if you don't pass on your first attempt.
There's a chance your interview will be done remotely or by recording a video interview, so make sure you can connect on your end – and always remember to dress professionally.
How to prepare for your
assessment
Our goal is to set you up for success at AT&T.
That's why we're providing you with the information you need to prepare for the entire application process. In particular, your first assessment will ask behavioral questions to test if your sales and customer services skills are a good fit for this opportunity. The second assessment focuses on your bilingual skills to help us confirm you're fluent in the needed language. When you're getting ready, it's a good idea to find a quiet place, get in the zone and answer as honestly as possible. And to prevent any errors from happening, make sure you are doing so on a computer and not a mobile device.
If you want to get a better idea of what will be involved, check out our Study Guides >
Need help with your application?
Visit our FAQ page to get answers and even chat with one of our Application Specialists >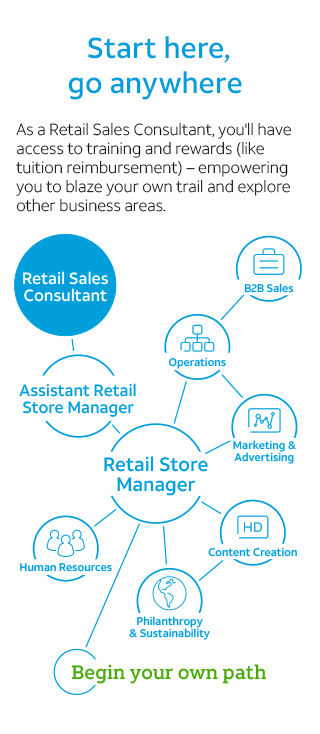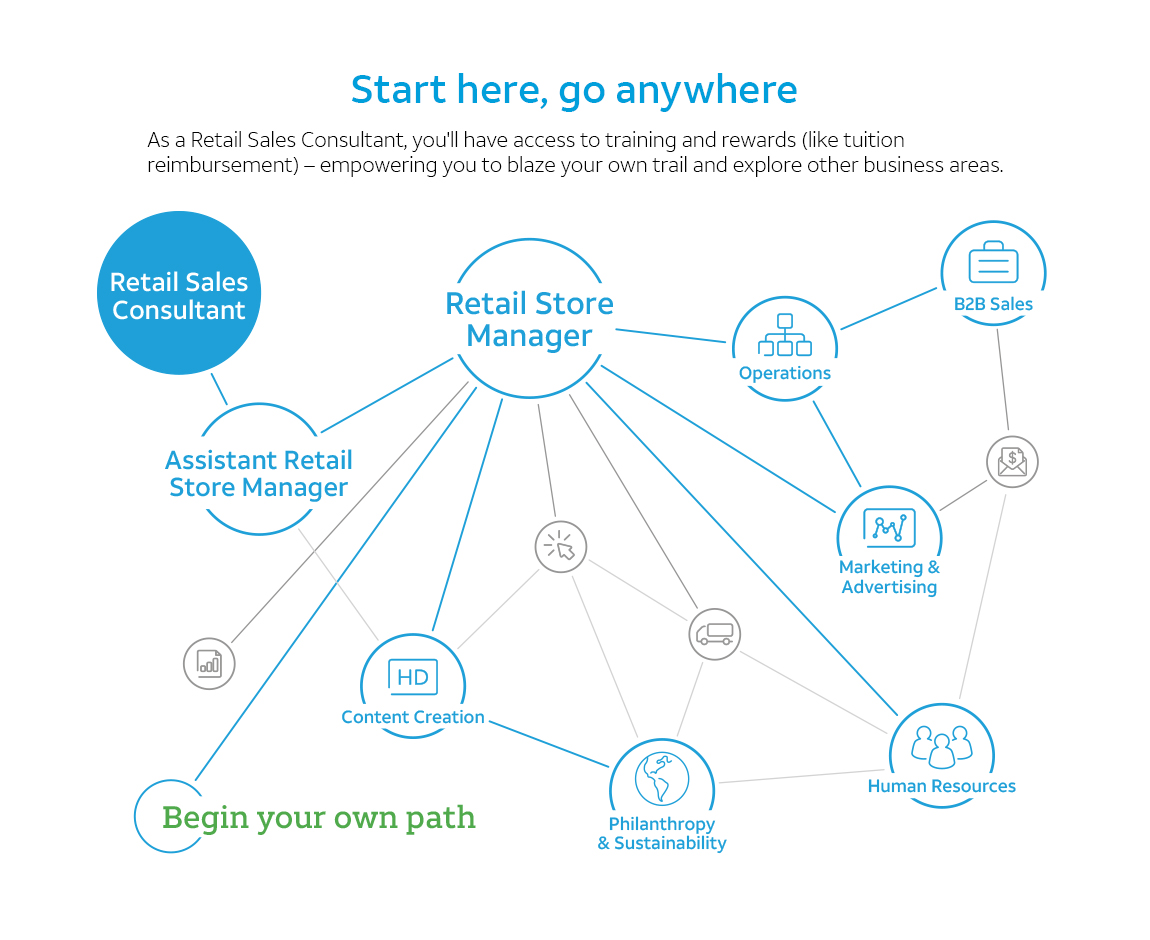 Rewards
Compensation

AT&T offers competitive pay and benefits, as well as other exciting rewards.

Employee discounts

Enjoy immediate access to discounts on a wide range of items – from AT&T branded products and services to tickets for sports and entertainment events.

Paid time off

Play as hard as you work! On top of paid holidays, AT&T offers Paid Time Off (PTO) to eligible employees for leisure and to handle personal activities. PTO includes bereavement and jury/court duty.

Paid training

Rock your job with the support of innovative learning and development initiatives.

Tuition reimbursement

Keep learning - tuition assistance is available for eligible employees to help cover education costs that have been approved by the company.

Savings Plan

AT&T employees can plan for the future by enrolling in our AT&T Retirement Savings Plan (ARSP).

Insurance
(medical, dental & vision)

Get covered with our excellent insurance options - for you and your family.

Current Employee - Retail Sales Consultant in Edmond, OK
Pros
You get the opportunity to work with and meet some really amazing people.
Cons
I do not have any cons.
Powered By

---
Doing Great Things
Building a brighter future

In 2015, we saved $119 million in annualized energy – and that's only the start of how we're in the business of doing good.

Making an impact

We're working to make a difference in our communities – like our $250 million commitment to education through AT&T Aspire.

Ensuring every voice matters

With 115,000+ employees in our employee networks, we celebrate the amazing things our differences bring to the table.
Putting military skills to work

We're on a mission to hire the best talent – a big mission. We're committed to hiring 20,000 veterans by 2020.

Developing what's next

Whether it's in AT&T Labs, the AT&T Foundry or our Mobile App Hackathons, we're unleashing talent and turning big ideas into big possibilities.

Taking your career far

With mentors to guide your way and lots of training opportunities, there's no limit to how much you can grow or where your career can go.
Join the Talent Network
Sign up to receive a monthly newsletter and be the first to know about career events, new openings and exclusive updates.
Join Now