AT&T Ranks #4 on DiversityInc's 2016 List of Top 50 Companies for Diversity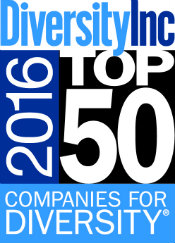 As we look to the future of our company – and its place in the world of technology and innovation – we know what we need to be successful: a broad mix of perspective, skills and ideas. Walking the halls of any building or facility at AT&T, you'll notice something – the people are diverse. Here, Every Voice Matters. From our executives to our retail employees, everyone's differences are authentically embraced, valued and vital to our business inside and out.
This is a primary reason why AT&T has climbed 3 spots to No. 4 on the DiversityInc Top 50 Companies for Diversity List. And we couldn't be more proud. It's an honor to be listed alongside so many other amazing companies making the call for diversity.
AT&T also ranked on the following specialty lists:
No. 1 Top 10 Companies for Recruitment
No. 1 Top 10 Companies for Supplier Diversity
No. 1 Top 10 Companies for Employee Resource Groups
No. 4 Top 10 Companies for Mentoring
No. 5 Top 10 Companies for Veterans
No. 6 Top 10 Companies for LGBT Employees
It's always wonderful when an authority in the diversity and inclusion space honors us for walking the talk. Diversity and inclusion are essential to our culture and our success. It drives innovation by allowing a wide range of viewpoints to be heard and considered.

– Cynthia Marshall,

Sr. Vice President and Chief Diversity Officer
More than 1,800 companies participated in the survey this year. The survey, now in its 17th year, assesses performance based on four key areas of Diversity & Inclusion:
Talent Pipeline: workforce breakdown, recruitment, diameter of existing talent, structures
Equitable Talent Development: employee resource groups, mentoring, philanthropy, movement, fairness
CEO/Leadership Commitment: accountability for results, personal communications, visibility
Supplier Diversity: spend with companies owned by people from underrepresented groups, accountability, support
There's More
We don't wanna brag but...we've won over 100 + awards for diversity and inclusion. And for us, that's something to write home about. To name a few:
2015 Employer of the Year from Careers & The Disabled Magazine
National Association for Female Executives' 2015 Top Companies List
2015 40 Best Companies for Diversity from Black Enterprise Magazine
2014 Best Company for Mentoring and 2015 Best Company for ERG's from Asia Society
A perfect score from the Human Rights Campaign (LGBT Equality) for the past 10 years
Secretary of Defense Freedom Award for supporting employees who serve in the National Guard and Reserve
And many more!
Walking the Talk
Our 139-year history of connecting people through technology depends on us putting out best foot forward. How do we do that? By hiring the best talent and then supporting them as they grow.
Our 12 Employee Resource Groups offer our employees a supportive and encouraging network of over 122,000 members. They include: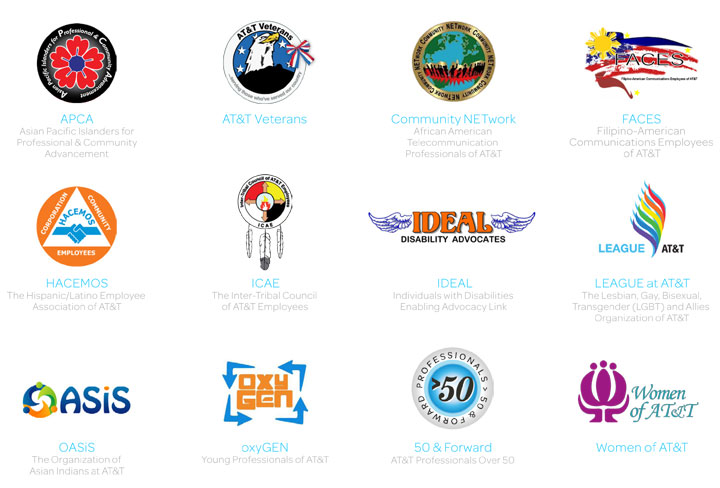 Every year, members from our ERG's gather and celebrate their achievements at our annual ERG Conference. Attendees have the opportunity to go to leadership workshops, participate in fireside chats, network with employees from across the country, and interact with company leaders.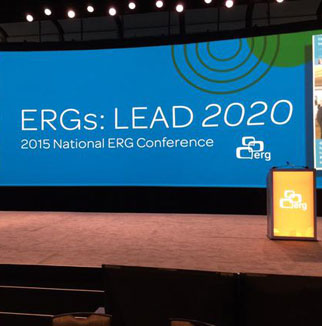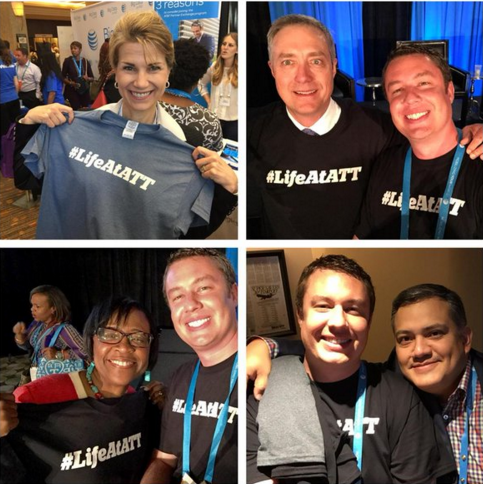 See what #LifeAtATT can offer you.
Join the Talent Network
Sign up to receive a monthly newsletter and be the first to know about career events, new openings and exclusive updates.
Join Now