Sealing the Deal: Navy SEAL Cody Bandars Makes His Mark at AT&T
At AT&T, our people are what make us great. We hire the best of the best to join our team, which is why we're committed to working with military veterans. As a military award-winning company, we're devoted to serving those who once served our country, and we work hard to ensure a seamless transition into civilian life for our vets. Our Military Talent Attraction Manager JoHanna Martinez had the pleasure of connecting this veteran with the right team.
Marcus Owenby, AVP of Product Development, talks about Cody going above all expectations:
The Care Coalition is an incredible program designed to support the United States Special Operations Command (USSOCOM) service members who are in the process of transitioning into civilian life, but are waiting for the completion of their medical separation orders (papers that permit service members to separate or retire from the military for medical reasons). During this transition, they are still on active duty (paid by the government), but are given special permission to work with an approved corporation for 1-6 months. AT&T is one such company, which invites these service members to work with us, teaching them skill sets that will help them after transition and in the civilian workforce. I'm proud to say my team was the first team at AT&T to host a "fellowship."
This "fellowship" started off as an initiative to teach Cody some skills and streamline his transition, but AT&T has been the one learning from him.
I was lucky enough to find a needle in a haystack in Cody Bandars, a Navy SEAL looking for a career opportunity in Dallas. Cody happened to be a perfect fit for a role I had been trying to fill. He was bilingual, detail-oriented and had the cultural experience to be comfortable working with our business partners in Latin America. Cody went above and beyond any expectation I could have had for an active-duty service member walking into our corporate headquarters. He learned our invoice processing system within a few weeks—an incredible feat, considering on average it takes most people several months to be functional with the program.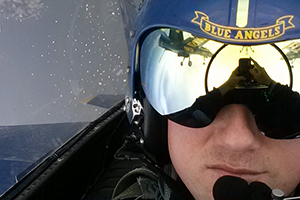 But he was just getting started. Cody would go on to find a discrepancy in our vendor invoicing, saving us time and an abundance of money, and he's proven to be a leader, providing basic communication training that's been adopted by my team. Cody's military training taught him to communicate in the most rigorous of environments, and we've reaped the benefits.
I didn't have the privilege to know Cody as a SEAL, but seeing him prosper at AT&T has been truly rewarding. He's shown he knows how to identify a problem, solve it, raise our collaboration efforts and increase company morale.
Cody is now an official AT&T employee.
Are you a veteran looking to begin a one-of-a-kind career with AT&T? Learn more about our military initiatives and join our team today.
Join the Talent Network
Sign up to receive a monthly newsletter and be the first to know about career events, new openings and exclusive updates.
Join Now