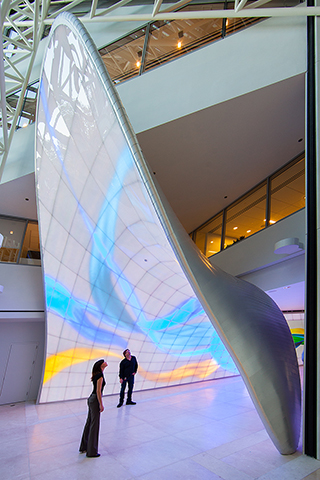 El Segundo, California. Sound familiar? If it doesn't, it should. Tucked in just outside of Los Angeles, El Segundo combines a small town feel with cutting edge job opportunities and incredibly easy access to all the great state of California has to offer. We've got the Top 5 reasons you may want to make this bustling AT&T location your next employment destination.
#1 Location, Location, Location
Our AT&T El Segundo campus is bordered to the west by the mighty Pacific and offers easy access to LAX to the north. The campus is located in a thriving business and residential hotspot. Have dreams of surfing at lunch? Check. Want to grab some grub in old town? Check. Looking to be discovered? Well, with Hollywood just 15 miles away, you just might be able to check that off your list too!
#2 The El Segundo AT&T Campus
Let's face it, we spend a lot of time at work. Do you want to spend your days in a windowless, beige cubicle or a dynamic workspace where style and function collide? Yeah, we think we know the answer to that one. High-energy work environments specifically designed to light the fire of innovation are on full view the moment you walk through our front door. Have we mentioned we have a Cyclone? We do. Our LEED Platinum certified workplace, gym, juice bar, basketball court and outdoor spaces want to support your ideas, c'mon, go ahead and let them.
#3 You are a celeb sighting connoisseur
Entertainment is just one part of our biz with a serious presence in AT&T's El Segundo location. With the Rich Eisen Studio right here on campus, you have a better than average chance of rubbing elbows with musicians, actors and pro-athletes from any one of your favorite teams. Hang out in the right spot and you just might find yourself on camera in the background at one of our filming locations. Make sure to tell your mom what time to watch.
#4 The Jobs
You know what you want to do, you know what you're good at, so why not jump at a chance to make the maximum impact at a job in technology, entertainment, broadcast, ad sales, marketing, HR, corporate responsibility…I'm out of breath, so hopefully you get the idea.
There are few limits on what's possible if you bring your skills, drive and passion to AT&T. What do you really want to do with your one great life? Let's break it down, say we're on the lookout for Marketing experts who run laps around their peers in the areas of Analytics, Pricing or Marketing Communications. That probably means you're an innovative, creative thinker with a variety of skills and experience. Did we just take the words right out of your mouth? Great! The time has come for you to check us out. Seriously, we'll make it easy, here's what our team has to say.
Hear from Brandon, he's looking for someone to join his Analytics team!
Greg is looking for a Lead Marketing Manager to join his Strategic Pricing team!
Watch as Pat shares what he's looking for in a Sr. Manager of Marketing Analytics!
Hear from Victor, he's looking for Analysts to join his Customer Interactions Analytics team!
#5 You have a real thing for your community
At AT&T, we believe our people are what make us great and we want to do amazing things together. We encourage community engagement through our Employee Resource Groups, and the active chapters in El Segundo are knocking it out of the park when it comes to getting involved, staying involved and making a difference.
Now that you're convinced, there's no time like now to make it happen. Your new El Segundo job is waiting for you.
At AT&T, the opportunities are endless. Learn more about #LifeAtATT and explore our current openings.