Dan Solero
Job title: Assistant Vice President, Tech Security
Current home: Indianapolis
Undergraduate degree:
Telecommunications and English Literature, Indiana University in Bloomington
Master's degree:
Information and Communication Science, Ball State University in Muncie, Indiana
Past pursuit:
Playing drums in a locally famous alternative rock band, Brando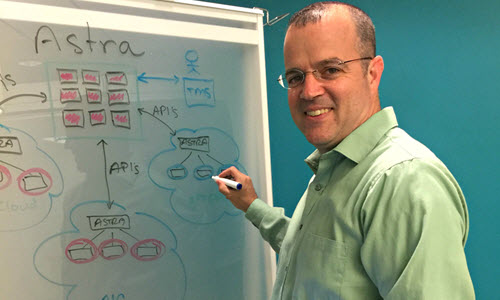 Current stress relievers:
Spending time with family, walking or hiking, playing drums
When Dan Solero was in college in the early 1990s, clouds were only in the sky and cybersecurity wasn't even a concept.
But Dan evolved along with the technology and today he is a cybersecurity expert.
Dan's 215-member team works to protect our company's data, computers and our network. It's a big job and Dan is busier than ever. But he made time for a few questions:
What does your team do exactly?
My team designs and manages tools to protect AT&T data, networks and systems. We develop systems of solutions that help protect our customers through AT&T Managed Security Services. Our 2020 mission is to transform all of that capability into a virtual infrastructure.
We develop the tools so detecting threats or incidents is possible.
Is a tool something like a firewall?
Everything from firewalls to intrusion detection sensors. Even algorithms to mine event data.
One example: there's a type of attack called advanced persistent threat. That's when a determined adversary uses a variety of attacks and whole bunch of patience to get what he wants.
You usually don't see evidence just by looking at your firewall log. It takes a very complicated set of data analytics or a bunch of different systems over a long period of time. A tool that can pull all those things together and make it easy and automated would be like gold. Five years from now, it will probably be a commodity.
Are there more security threats every day?
Yes, the threats are always changing and the pace is always accelerating. We play whack-a-mole a lot. That's actually a common phrase we use when we are handling an issue as fast as possible. Then we come up with a more strategic, comprehensive plan.
News stories about cyberattacks can be scary for regular people. What about you?
Grizzled old security veterans know that cybersecurity events can make for compelling headlines. If a report claims 40 million users are impacted, that is going to draw more attention than if the scope is a few thousand users – little consolation if you are individually impacted.
But it's also true and it's scary. It's kind of like criminal cases. One incident can cause a lot of public notoriety.
You don't have a degree in cybersecurity. What's it like to hire people with the academic credentials?
It's a little bit intimidating to hire people who have master's degrees in this subject and it wasn't even available to me during my academic career. I've really had to constantly emphasize personal growth.
I do it by remaining engaged with my team, some of the most advanced cybersecurity experts in the whole world.
The other thing I do is keep abreast of new technologies from our partners, our suppliers and startups. That really helps keep me sharp as well.
Three years ago, you experienced another kind of attack: a heart attack. How did that affect your life?
I was 40 years old and exercised regularly. I was running half marathons, 5Ks and 10Ks and was very active. But I have a genetic condition that predisposes me to heart disease. So it wasn't a huge surprise to me personally or my family, but I think it was shocking to some people who knew me.
The good news is that I was able to recover quickly and adjust my medications and lifestyle so that I don't run into that again any time soon. I even ran my first – and last –full marathon 6 months after the heart attack.
What one thing would you most like to accomplish in your work life?
There are many, many things. I would like for the primary communication in work to not be email. That is for reasons of security, efficiency and stress reduction.
And it's a challenge to just keep up with passwords. It's a weak link, a very weak link.
I would love to have my team play a part in our evolution beyond email and beyond passwords. Those are my utopian goals.
Dan Solero is one of thousands of cyberspecialists at AT&T. But Dan points out that it's up to all of us to maintain security.
Sound like something you're interested in? Join AT&T's IT Security team.